Grease Trap Service & Maintenance
Public Sewer Service provides grease trap cleaning, grease trap installation and grease trap maintenance in NJ. Regardless of grease trap system size and complexity, we understand your system and know how to keep your waste water moving. Our grease trap services in NJ provide you with the assurance that your operation will always be flowing trouble free.

Public Sewer Service is committed to providing economical grease trap cleaning, pumping, and disposal solutions to our customers. Our expert technicians offer these grease trap cleaning services: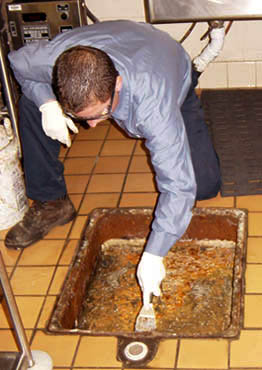 Restaurant Grease Trap Cleaning
Deli Grease Trap Cleaning
Bakery Grease Trap Cleaning
Bagel Shop Grease Trap Cleaning
Hotel Grease Trap Cleaning
Grease Trap Services Include:
Interior Kitchen Grease Trap Cleaning
Grease Trap Pumping and Disposal
Ejector Pits Cleaned Exterior Grease Interceptors
Grease Recovery Systems
Fryer Cooking Oil Removal & Containment Systems
Grease Trap Enzyme System Treatments
Lift Sanitation Pumping, Cleaning & Repair
Maintenance Programs
For 24/7 grease trap maintenance service in NJ or emergency grease trap maintenance in NJ, contact Public Sewer Service at 1-800-508-8264. We are available every day of the year.