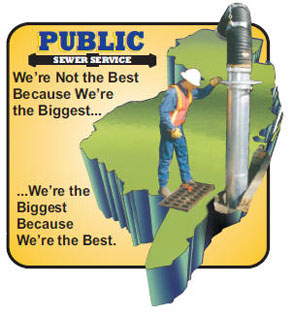 Professional Sewer Services
Public Sewer Service is a professional sewer service in NJ serving the entire NJ area. Clogged sewer cleaning service and clogged drain cleaning service done in the most efficient and economical manner is the norm at Public Sewer Service. Our well-trained sewer professionals are understanding, compassionate and responsive to our clients' needs. From dispatching, to our clerical and sewer professionals/technicians/mechanics; Public Sewer Service prides itself in providing exceptional, quality sewer service in NJ. When you call us you will always speak to a sewer professional, never a recorded message center.

Our in-house stock inventory of sewer products is second to none. In fact, our stock levels of sewer products and supplies are more diverse than wholesale sewer suppliers. Remember, we are here to serve you, solve your sewer or drain problems and make sure that you are completely satisfied with our work and professionalism.

For 24/7 sewer service in NJ or emergency sewer service in NJ, contact Public Sewer Service at 1-800-508-8264. We are available every day of the year.